Renewal by Andersen®
Double Hung Windows
Double Hung Windows are the most popular choice among homeowners.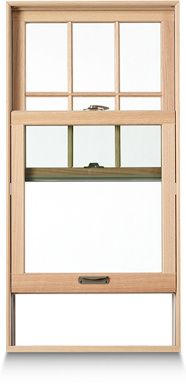 Our double hung windows feature a timeless, classic look with our wide range of color and design options, and can enhance most any style home, from contemporary to traditional.
Renewal by Andersen® double hung windows can be utilized in restoration and renovation projects where historic accuracy is important.
Because of their design, they do not protrude into the space and are the preferred windows style for hallways and porches.
This classic window style is an excellent choice no matter where you live. Choose gently curved Contemporary or squared Traditional Check Rails.
Easy cleaning from the inside.
Traditional look of mortise-and-tenon styling.
Appropriate for restoration and renovation projects.
COLORS
INTERIOR COLORS
Our real wood interior windows can be stained or painted to match your decor.









EXTERIOR COLORS









HARDWARE
HARDWARE COLORS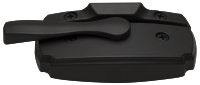 GLASS

Each glass option offers four unique benefits for heating, cooling, visible light transfer and ultra violet (UV) protection. The glass solution for you depends on the climate you live in, the architectural design of your home, and the orientation of your windows to the sun.
High-Performance™ Low-E4® glass
45% more energy-efficient in winter*
56% more efficient in summer*
Blocks 84% of UV rays that can damage your drapes, artwork and furniture
High-Performance™ Low-E4® SmartSunTM glass
SmartSunTM is our most energy efficient glass option. It has our highest efficiency rating in cool weather and is exceptional in hot climates where solar heat gain can lead to excessive air conditioning expense. SmartSunTM glass lets in almost as much natural daylight as clear glass.
45% more energy-efficient in winter*
70% more efficient in summer*
Blocks 95% of harmful UV rays
Our High-Performance™ Low-E4® glass is also available in four pattern options: Obscure Pattern, Reed Pattern, Cascade Pattern and Fern Pattern. We also offer tempered glass options, heat-treated to be at least four times stronger than regular glass.
GRILLES
GRILLE TYPE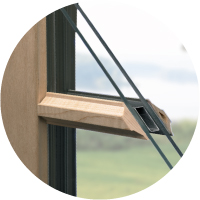 Full Divided Light Grilles
Full divided light grilles provide a visual replication of true divided glass. The option consists of a permanently applied exterior Fibrex® material grille, an aluminum spacer between the glass, and a removable or permanently applied interior grille. Available in two widths.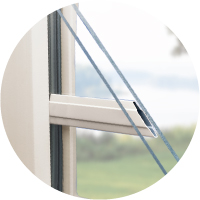 Between-the-Glass
Aluminum grilles are permanently installed between the panes during manufacturing, providing the beauty of grilles with the quick cleaning of a smooth glass surface. Available in two widths and an array of colors.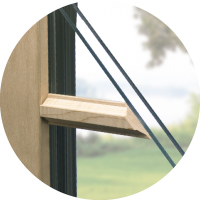 Interior Wood Grilles
Made of hardwood, these grilles snap into clips on the interior of the sash and can be easily removed to make glass cleaning a breeze. Available in two widths.
SCREENS
Screens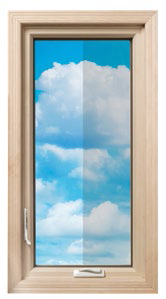 TruScene® High Transparency Insect Screens
With over 50% more clarity than our standard insect screens*, it's virtually invisible. TruScene insect screens are made with a micro-fine stainless steel mesh that's one-third the diameter of standard screen wire* to let more fresh air and sunlight in, while keeping most of the smallest insects out.
Nearly invisible
Made of stainless steel
Protection against some of the smallest insects
Superior ventilation
Lets more light in
Patented technology
PERFORMANCE
and signature service
Energy Efficiency
Superior thermal insulating properties helps your home stay warmer in winter and cooler in summer and can help you save money on your energy bills.
Strength and Durability
Twice as strong as vinyl, Fibrex® material means weathertight seals stay weathertight. Its durable nature means that it can stand up to even the most extreme temperature swings, maintaining its stability and rigidity in all climates.
Low Maintenance
Your Renewal by Andersen® windows are warranted not to flake, rust, blister, peel, crack, pit or corrode. Years down the road, they will be as easy to operate as the day they are installed.
Beauty
The strength of Fibrex® material means narrower frames; narrower frames mean more glass—and more view. Plus, the extrusion process allows us to craft your windows to any shape—meaning you can match the architectural style of your home or define a new look.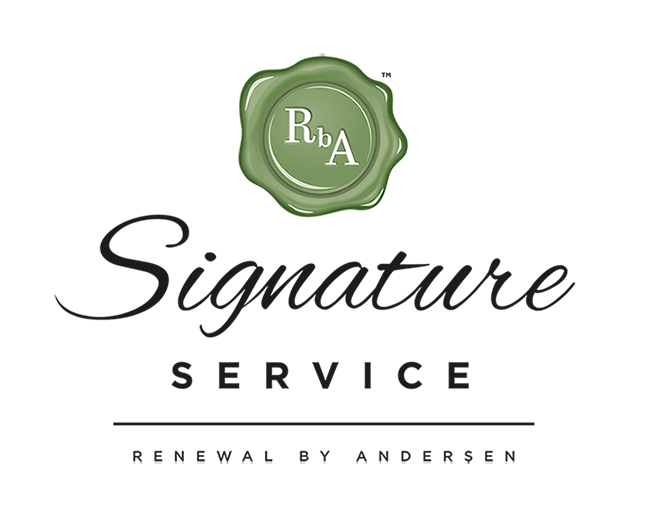 Renewal by Andersen's Signature Service is committed to giving you the best customer experience possible, through the perfect combination of the best people in the industry, a superior process, and an exclusive product.
Learn more about the benefits of Renewal by Andersen's Signature Service:
Professional Installation.
With Renewal by Andersen®, you get the product reputation of Andersen Windows with the master work of passionate installers.
Superior performance.
Andersen's exclusive Fibrex® composite material lasts longer, performs better, and is stronger than vinyl. **
Energy Efficiency.
Renewal by Andersen's energy efficient windows are ENERGY STAR® certified and can reduce heating and cooling costs.
Hassle Free Process.
Renewal by Andersen® eliminates the need to work with multiple companies. We are responsible for all aspects of your window replacement and installation.
Long-term value.
Our comprehensive, hands-on approach ensures your window and installation quality, beauty, and energy savings last for many years.
Unrivaled Beauty.
Renewal by Andersen® offers a wealth of window styles, colors, and grilles to fit any home.
From design and sales through manufacturing, installation, and service, we own the entire process—giving you a single point of contact and helping make your experience the most streamlined home-improvement project you've ever done.
It's the kind of service you would expect from the Andersen Windows name, and it's only available at Renewal by Andersen®.
Renewal by Andersen's Signature Service: The Better Way to a Better WindowTM