Renewal by Andersen®
Professional Installation
A Great Window Is Only as Good as the Installation Behind It.
Renewal by Andersen® Signature Service® is designed to make your window replacement project the best home improvement project your family has ever done.
How do we do that? By understanding that a great window is only as good as the installer behind it.
We've long understood that a quality experience is in the details. All of the craftsmanship and engineering we put into our products would mean little without the very best professional installation—which is why we don't just take pride in our Certified Master Installers, we celebrate them.
Every home is unique. Installation of a replacement window isn't simply a matter of putting a standard-size window into a hole in the wall. It's a matter of expertly fitting YOUR custom window into YOUR home. Our installers' ability to do that—and do it with care, respect, and professionalism is what sets us apart from competitors.
Request a free in-home consultation today to get started on your window replacement project!
MEET YOUR INSTALLATION CREW
Renewal by Andersen's installers are craftspeople who have experience working in homes of all shapes, sizes, and styles.
They take professional pride in their work, and in their relationships with individual homeowners. What's more, our installers believe in going the extra mile to make sure you are completely satisfied with your new windows—and with the whole experience.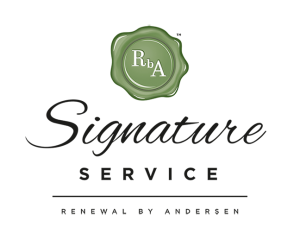 Click the tabs below to find out what you can expect from the experts at Renewal by Andersen<sup>®</sup>.
THE INSTALLATION PROCESS
Your crew chief will take some time to get to know you, explain the day's activities, and answer any questions you may have. After that we will:
Prepare the area. We place drop cloths (inside and out) to catch debris and dust, then carefully remove the old window and inspect for and repair any damaged window frame components, as needed.
Clean and prep the opening. Once the open window area is cleaned thoroughly, our installers put in the new window.
Insulate and seal the frame. Installers tightly seal the area around the frame and replace the trim around the window.
Verify our work. Once the window is installed, we perform a final inspection to make sure everything is in excellent working order.
Clean up. Plain and simple: Our installers clean the area. Thoroughly. We even dispose of your old windows for you. In fact, we often hear from homeowners that the house looks cleaner after undergoing a major construction project than it did before the crew got there!
Go behind the scenes and see what makes our crews so special.
WHAT TO EXPECT ON INSTALL DAY
WHAT TO EXPECT ON INSTALL DAY
Your team will arrive with a "rolling workshop," preparing them to handle any number of challenges on the job, including:
Variations in wall materials and thickness
Different types of casings or sill constructions
Changes from house settling
Unforeseen structural damage
Check out our infographic about what you can expect on installation day.
WINDOW INSTALLATION THAT CREATES PEACE OF MIND
WINDOW INSTALLATION THAT CREATES PEACE OF MIND
When all the heavy lifting is done and the dust has settled (and been cleaned up), our installers don't just head for the highway. They will:
Walk you through a product demonstration.
Provide tips and hints for operation, care, and maintenance.
Answer any other questions you may have.
Show how you can leave feedback on the process —we want our homeowners to be not just satisfied, but delighted, so hearing how we did is crucial!
All we do is windows and patio doors, and our installers are some of the best in the business. That's why our robust limited warranty doesn't just cover the product and the glass, it covers installation, as well. Non-prorated and fully transferable, the limited warranty is one more way you'll know we're here for you—start to finish, today, tomorrow, and years down the road.
The whole process was simple from start to finish. The installation process was not at all stressful and absolutely no mess was left behind. Overall, I was extremely pleased with the whole process in its entirety. Renewal by Andersen® made this an very smooth and enjoyable process. I highly recommend using this company for windows and doors!
Cali
Renewal by Andersen® of Colorado